Maui Wedding Ministers and Ceremony Types

Choosing the Right Man or Woman For the Job
Choosing the right minister or officiant for your wedding is an important detail. Do you want someone to throw in a bit of humor during your ceremony or someone who sticks to the script? Do you want someone who incorporates traditional Hawaiian culture or someone who offers a religious ceremony? Ideally, you want to meet with several officiants and choose the person who meshes best with you and your partner's personalities. Finding the right officiant can be difficult, however, if you are thousands of miles away. You can begin the process via an Internet search, but nearly all Maui wedding planners know dozens of licensed officiants — one of whom is sure to be a great match with you and your significant other.

A Maui Civil Ceremony
A civil ceremony on Maui can be performed on the beach, at a hotel, a plantation, etc. Many of the scripts include a lei exchange and references to Hawaii. Civil ceremonies can be a small, intimate affair or a larger event with lots of friends and family present — it's up to you. Most officiants will already have some scripts for you to choose from that can be tweaked to express a couple's uniqueness.

Religious Ceremonies
While many couples come to Maui to marry on the beach, other couples choose a more traditional venue such as a church. However, on Maui you can combine the best of both worlds since there are lots of chapels and churches right on the water! Depending on your faith, you may need an authorization letter from your pastor, priest, rabbi, etc. stating you can get married outside of your church. Because of this, finding a church and minister on Maui should be one of your first steps when planning your big day.
Maui Civil Unions
Hawaii is the seventh state to recognize civil unions between same-sex couples. A marriage license application is required and can be accessed via Hawaii's Department of Health. The application fee is $65, which can be paid online or at the time you and your partner submit your application. (We will arrange your licensing appointment for you.) Notably, an officiant of a civil union must be licensed by Hawaii's Department of Health in accordance with Act 1.

Ready to Start Planning?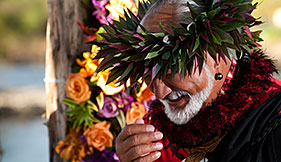 Maui Beach Weddings and Events, can save you time, money and lots of headaches. That's because we have planned hundreds of Maui weddings and know every detail that needs to be completed in preparation for your big day. Contact us today so that we may learn more about you and your soon-to-be-spouse. We guarantee our planning services will result in a memorable once-in-a-lifetime Maui wedding!
back to top
---
Incorporating Hawaiian Flowers
Into Your Maui Wedding

The Sweet Smell of Love (and Flowers)!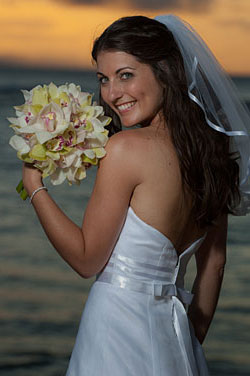 Flowers can undoubtedly transform a wedding. They can make a hotel room feel like an elaborate garden or create an upscale feel in an outdoor space. Traditional wedding flowers include roses, daisies, lilies, tulips, hydrangeas, freesias and orchids. However, when you see and smell the flowers of Hawaii you'll most likely want to incorporate some or all of them into your wedding. Here are some of the island favorites...

Hibiscus — When you think of Hawaii you think of the hibiscus. This stunning blossom has large petals and comes in a variety of colors including yellow (the official flower of Hawaii), pink, red and white. Some florists can even create a combination of colors using the white flower as a base.

Plumeria — You can be feet away from a plumeria and still smell its sweet fragrance. This particular flower is often used to create the traditional Hawaiian lei, which many couples incorporate into their Maui weddings. Popular plumeria colors are pink, white and yellow.

Ginger — Contrary to its name, the Hawaiian ginger flower has nothing in common with the spice! Rather, the ginger comes in rich reds and perfect pinks that are sure to dazzle at a Maui wedding. The plant is hardy and somewhat resembles a pinecone with short, radial petals. Brides often choose the ginger flower for centerpieces.

Bird of Paradise — This bold flower gets its name due to the resemblance of a bird's beak. With its bright gold and blue petals, the striking flower can be used in a bouquet, centerpiece boutonnière or anywhere else you'd like some pizazz!

Lobster Claw Heliconia — Vibrant reds and oranges adorn this flower, which is usually the largest species used in tropical floral arrangements. The name comes from the petals' claw-like shape. You can find a variety of colors, however, the red and orange combination is the most popular because it is said to represent the colors of Hawaiian royalty — and who doesn't want to feel like royalty on their wedding day?

Anthurium — Your soon-to-be-spouse has stolen your heart, and what better way to represent that than with a heart-shaped flower known as the Anthurium? Plus, this flower is known to last up to four weeks after being cut! Consider giving each guest an Anthurium as they depart; it can serve as a reminder of you and your spouse's love for one another (and makes for a wonderful Hawaiian gift).
Here? There? How About Everywhere!
When you work maui Beach Weddings and Events we can help you brainstorm some creative ways to incorporate Hawaiian flowers into your wedding (while stretching your dollars). You can stay simple with bouquets, boutonnières and centerpieces or go a bit more lavish with arches, altar arrangements, pillars, flower circles, anklets/wristlets, hairpieces, flower ropes, etc. As mentioned earlier, consider incorporating the traditional Hawaiian lei into your wedding. Receiving and/or giving a flower lei is an important tradition in the Hawaiian culture, and is a common practice during special occasions such as weddings, anniversaries and vow renewals.
Get the Flowers Without the Dollars!
Love Hawaiian flowers but don't have the budget to incorporate them into your wedding? Then throw that stress onto your wedding planner! We know dozens of Maui wedding locations that already have Hawaiian flowers growing on property. Alternatively, consider having your wedding at on of the beautiful private farms or gardens of Maui.
---
Maui Wedding Hair and Makeup Tips

Go Glam Girl!
Ladies, there is no better day to look absolutely stunning than on your wedding day. Remember, however, that Maui can be humid, windy and warm, which means you need to take a few extra steps to ensure your hair and makeup look great all day/night. If you can, consider getting your hair and/or makeup done by a professional. Many of which offer a trial styling prior to your wedding day (highly recommended). For the do-it-yourself bride here are some of our favorite hair and makeup tips we've learned from dozens of Maui brides and makeup artists.
Featured Wedding Vendor:
Wear a Primer
Before you paint a wall you use Spackle, right? A similar principle applies to your face. There are dozens of makeup primers on the market today that extend the life of your makeup. Primers create a base on your skin that makeup adheres to as opposed to adhering directly to your skin and disappearing by the end of the day. While the product may not sound necessary, trust us, it is. Not only will you be shedding tears on your wedding day but you'll also be sweating — whether dancing or simply standing under the warm Maui sun — all of which can quickly make a mess of your makeup.
Use a Long-Wearing Lipstick or Gloss
You'll be smiling and kissing a lot on your wedding day! Instead of having to reapply your lipstick or gloss every hour consider using a long-wearing product. Today there are a variety of lipsticks and glosses that stay on for up to eight hours and don't transfer to your spouse's or friends' faces.
Get Waterproof Mascara
Even the bride who swears she won't cry on her wedding day sheds a tear or two (even if no one is looking). Whether you shed one tear or one hundred, remember that having mascara lines down your face is not a good look. Heat humidity or passing showers can play havoc on non-waterproof makeup.
While mascara defines your lashes, many brides swear by false eyelashes. Keep in mind that you want to use false eyelashes to enhance your natural lashes. Remember you don't want to be trying anything for the first time on your wedding day.
Use a De-Frizzing Serum and Strong Hold Hairspray
Maui can be humid and windy. Combine the two, and you can experience a very bad hair day without some pre-planning. First, always have a trial run — whether at a salon or in your bathroom. You may end up hating that up do you saw in a magazine, and you'd rather know that prior to your wedding.
If you're doing your own hair find a lightweight product that smoothes the hair and one that can stand up to the heat. For example, use a serum on damp hair (only a dime-sized amount is needed, as serums are highly concentrated) then style. "Lock in" your hairstyle by using a dual-purpose hairspray — one that can stand up to the heat and the wind. Freshly washed hair can be a challange to style. We recommend washing your hair the day before, not the day of, to ensure your hair is clean and manageable.

Are you looking for a Maui salon and/or makeup artist for your Maui wedding? Contact us — we know some great people who are sure to make you look exquisite on your big day!
---
Maui Wedding Entertainment — Music, Hula and Fire Dancing

Shake Your Groove Thing
Three details that make a great wedding: the dress, the venue and the music! Music is important because it enhances all of the great moments of a Maui wedding — whether the bride's entrance, "the kiss," or the newly married couple's first appearance. And of course, music brings family and friends out on the dance floor to celebrate. Choosing what type(s) of music you play at your wedding can be a tough decision. Keep in mind that all amplified music, including smart phones and MP3 devices are prohibited on the beach. Allow us to suggest a live musician or entertainer to reflect you and your partners personalities.
Setting the Stage
Music is usually incorporated before the wedding while guests are finding their seats and waiting for the ceremony to begin. You have a variety of options at this point, which include the playing of instruments (harp, violin, cello, piano, etc.). If you're having a reception, consider having the musician(s) play during the cocktail hour and/or during dinner too.

DJ Play That Music
Most couples choose to hire a DJ for the reception. We recommend sampling several DJs' music selections before your wedding to determine if they're what you have in mind. Do hey have music from way back when as well as today? Do they specialize in any type of music? Are they funny and know how to get people on the dance floor? Do your research; ask for references and/or testimonials from past clients in addition to playlists. Here's another tip: if you know of songs that you definitely want played at your wedding, make sure to pre-request them. That way, you're not disappointed on your wedding day.

Give It Up For the Band
A live band can definitely get the party started. Again, remember to do your research and find a band that best represents you as a couple. Since you'll be on Maui there are also bands that play traditional Hawaiian music, including slack key or ukulele, which can add a unique local touch to your wedding.

Go Island Style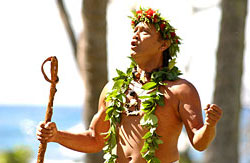 When on Maui do as the Hawaiians do! Lots of couples choose to incorporate Hawaiian culture into their Maui weddings such as hula dancing and/or fire dancing. To really get friends and family involved, why not have a hula lesson at the reception?
Get Started Early
Whether you're getting a DJ, band, orchestra or fire dancer remember to book your entertainment well in advance of your Maui wedding. Otherwise, you may have to book Uncle Joe and his karaoke machine!
Need help finding entertainment for your big day? Contact Us — we'd love to give you some recommendations!
---
Maui Weddings | Buffets, Dinners and Brunches

Satisfying Your Guests' Appetite
Wedding food has a bad rap. Pleasing everyone's taste buds is a difficult task — especially when some of your guests don't eat meat, others have food allergies and yet others are just finicky. Luckily, Maui is home to some of the most talented chefs in the world. (many of which can accommodate those requesting vegan, vegetarian, gluten-free, trans-fat and kosher meals).
Go Local Style — Have a Luau
Going to a luau is a must do when on Maui if for nothing other than the food, which is delicious. Not surprising then, many couples getting married on Maui choose to have a luau-like reception. Typical luau food includes:

Stir-fry vegetables
Mahi mahi
Roasted pork

Local-style fried rice

Taro salad and/or chips

Guava (or tropical-glazed) chicken

Poi

Salmon

Fresh island fruit

A Little Bit of This, A Little Bit of That
If you don't want to commit to a full luau you can still incorporate some of your island favorites into your menu while also offering more traditional foods. Nearly all of the hotels, restaurants and caterers that offer Maui wedding packages allow you to incorporate Hawaiian foods with traditional foods. This way the finicky eater can stick with the staples (pasta, steak, fish, chicken) and the adventurous eater can sample the poi.
For couples getting married in the morning a brunch is always a nice idea. Island favorites include French toast made with Molokai sweet bread, macadamia nut and banana pancakes and fresh pineapple, coconut and mango. Don't forget about the mimosas!
Buffet or Plated Meal?
The luau-type reception works well as a buffet — your guests can try a variety of local favorites and fill-up on their favorites. A buffet takes some of the pressure off of you to pick a menu that satisfies everyone. Plus, you don't need as many servers with a buffet as you would if offering a plated meal.
However, when offering a buffet you never know how much food your guests will eat so deciding on the right amount of food can be difficult. A plated meal on the other hand, allows you to purchase the exact amount of food needed. We will assist you with all of these important decisions.
Ready to talk turkey? Contact us today, and we'll share our favorite foods to serve at a Maui wedding. We can also help you with the gazillion other details that go into planning your big day!
---
Maui Wedding Cake Flavors and Designs

Let Them Eat Cake
Who doesn't love cake? And what better time to indulge in the most decadent cake than during your Maui wedding? Whether you're having a two-person ceremony or a larger gathering with family and friends, a wedding cake is a must. The wedding cakes on Maui, however, are a step above any wedding cake you've tried before. Imagine digging your fork into fresh coconut cake with pineapple filling or macadamia nut cake with lilikoi (passion fruit) icing. You can opt instead for Tahitian vanilla cake with fresh mango filling or almond cake with guava filling — is your mouth watering yet? Since there are so many fresh fruits on Maui (and amazing bakeries) the sky is the limit when choosing your cake combinations. If you're having a larger wedding consider having more than one flavor of cake and/or filling so that guests can sample Maui's best flavors.
When it comes to cake decoration, most brides choose to adorn their cakes with the fresh and exquisite flowers that can be found all over Maui — hibiscus, orchids, plumeria, birds of paradise and many more. These tropical flowers can also be paired with more traditional flowers such as roses, daisies and hydrangeas.
If you want to incorporate elements of the beach into your cake, you'll find that many bakeries on Maui can create cakes that include or resemble Hawaiian shirts, Hula dancers, seashells, dolphins, palm trees — all topped with a bride and groom dressed in their best island attire.
Ready to get started on all of the delicious details of your Maui wedding? Contact us today for tips on wedding cakes and so many more details that go into your big day!
---
Maui Wedding Transportation

Arrive In Style
Whether you're having a two-person wedding ceremony or a large estate wedding, you'll need a way of getting to your Maui wedding location. Maui offers all of the traditional modes of transportation as well as some that are unique to the islands. Here are some of the most popular ways to arrive in style:
Limousine — stretch limos can fit your entire wedding party (up to 8 people), and they're chic

Rolls Royce — It's your wedding, why not splurge?

Exotic or Classic Car — relive your youth in a T-bird, Woody or other classic car you've dreamed about for years

Horse Drawn Carriage — feel like Cinderella except you don't have to be home by midnight!

Harley Davidson — feel the wind in your hair and the horsepower in your hands

Boat, Catamaran, Charter — when on an island water transportation is easy and affordable

Canoe with Hawaiian Paddlers — now this is something you'll only find in paradise!

Helicopter — be whisked up and away to a private ceremony location

Shuttle — great to shuttle all of your guests to and from your wedding

Party Bus — do we need to say any more?
Notably, you can request that the driver(s) be dressed in formal or semi-formal attire — just be sure to do so in advance. Ready to get going? Contact us today for a quote, then sit back, relax and feel like a celebrity as you travel to and from your Maui wedding!
---
Maui Wedding Rentals

Why Buy When You Can Rent?
Weddings are expensive. There's a way to save money on your Maui wedding, however — rentals. Keep in mind that structures such as tables, chairs, arches and signs are prohibited at beach weddings. Exceptions are made for the disabled or physically challenged guests.
Tables — depending on the size of your wedding you can choose from banquet tables (long and rectangular), round tables or highboys/cocktail tables (perfect for cocktail hours).
Chairs — after hours of dancing your guests will need to take a load off! You can choose from a variety of finishes (gold, white, bamboo, natural, etc.) as well as folding chairs.
Linens — don't underestimate linens, as they can transform a location! Combine solids with prints or silks with satins. You can also rent napkins, chair covers and sashes to complete the look.
Glassware/Tableware — no need to pack the good china! You have lots of options when it comes to tableware and glassware that include martini glasses, champagne flutes, margarita glasses, cordial glasses, goblets and more. Dinnerware can be round or square, white or some other color — the sky is the limit on your big day!
Tents — if you're having your Maui wedding outside you may want to consider renting tents to allow your guests some shade from the sun, wind and in an emergency, rain. These are not permitted at the beach.
Ceremony Accessories (for private venues only)— these can include gazebos, arches, canopies, chuppahs, benches and podiums — all of which come in a variety of finishes including white, bamboo or natural.
Lighting — along with linens, lighting can transform a location and add the desired ambience. Choose from paper/glass lanterns, chandeliers, rope lights, tea lights, tiki torches, can lighting (usually over the dance floor), twinkle lights and more.
Dance Floor — what's a wedding without dancing? Pick a dance floor that can accommodate all of your guests. Sizes typically range from 12x12 to 18x24.
We Love Details!
All of us at Maui Beach Weddings and Events enjoy working out the details for our clients' dream weddings. That way we can manage every detail while you relax and enjoy this special time. So, when you're ready, contact us and learn why working with Maui Beach Weddings and Events will save you headaches, time and money.
---
Webcasting Your Maui Wedding

Can't Be There? Watch the Webcast!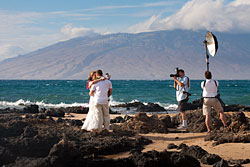 Who doesn't want to visit Maui? The island is consistently named as one of the most beautiful islands, full of the most breathtaking beaches, in the world. It's not surprising then, that hundreds of couples choose to say "I Do" on Maui each year. However, traveling to Maui can be difficult for friends and family due to a variety of reasons including health and finances. Thanks to technology your loved ones can still be with you on your special day through an online webcast or YouTube upload. Ask us for details.
Log On To Love
For your friends and family members who have a computer or mobile smart phone, they can experience your Maui wedding from afar through a webcast. A webcast is the transmission of media (in this case your wedding) over the Internet using streaming technology (which means there is nothing to download). There are two types of webcasts — live and on-demand (meaning people can watch the previously recorded event whenever time permits).
How Complicated Is This Stuff?
If you're working with a planner from Maui Beach Weddings and Events then you just need to show up on the big day! Contact us today to get a quote on your video production a webcast as well as any other aspects of your Maui wedding you'd like assistance with. Typically we'll need to know if you want:
A live or on-demand video (or both)

More than one cameraman (for different angles)

Any interviews with the bride, groom and/or guests

A light or fully edited DVD of the wedding

Additional DVD copies

All of the raw footage

Filming of the ceremony, reception and/or other wedding-related events
That's it! We do all of the hard work so that you can relax and enjoy the most memorable day of your life. Get a quote today then tell your guests to log on and watch you say, "I Do!"
---
Maui Weddings | Open Bar Vs. Cash Bar

Cheers to the Happy Couple!
There's no doubt that people want to celebrate and have a good time at weddings; and alcohol typically plays a role in that! The state prohibits alcohol possession or consumption at beach weddings. One difficult decision couples have when planning their weddings is whether to have an open or cash bar at their reception. There are pros and cons for each.
Open Bar Means Opening Your Wallet
Having an open bar at your Maui wedding means that guests can drink as much as they want without having to worry about paying — that's your job. Obviously, open bars can become expensive if you have a large number of guests or even a smaller number of guests who can knock more than a few back.
To save money consider offering beer, wine and one or two signature drinks, like a pina colada or mai tai, as opposed to an entire bar including top shelf liquors.
Another great way to save money on an open bar is to have a morning wedding and reception. People are known to drink less during the daylight hours than in the evening (although we're not sure this is completely true when on Maui).
Last but not least you can also offer an open bar for a certain length of time — possibly during your cocktail hour or for the first hour of your reception. Doing so allows your guests to enjoy a few free drinks while not breaking your wallet. Afterward, a cash bar goes into effect.
Can I Start a Tab?
A cash bar requires guests to pay for their drinks. This is the most inexpensive option for the person(s) paying for the reception. If you're going this route be sure to mention it on your invitations, so that guests plan accordingly.
When planning your cash bar, ask your wedding coordinator/bartender/caterer if guests need to pay for non-alcoholic beverages. If yes, consider footing the bill for such drinks as a courtesy.
Contact us today, we can also help you decide between an open or cash bar plus answer any other questions you have regarding Maui weddings!